TM

Fire Ant Control
Without Dangerous Poisons!
" THE ENVIRONMENTALLY SAFE WAY TO CONTROL FIRE ANTS"
Destructi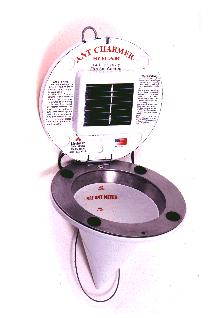 ve imported red fire ants have been reported from California to Florida and are not about to be stopped by harmful poisons. This is not a regional problem...it is a national problem,and it's growing. These poisons are dangerous to humans and animals as well as the environment. The Solar Ant Charmer was developed by Heitman Laboratories as an alternative to using these dangerous chemicals.
The Solar Ant Charmer is ideal for use around homes, gardens, farms/ranches, play areas, around pools and ponds.
Don't be fooled by the chemical companies when they tell you, it's OK to put poisons on the ground....It's NOT OK...think about it!
It's bad for our health, our water sources and our future.

Solar Ant Charmer Operation And Use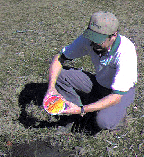 Locate the fire ant mound you want to control. Mound should be dry not muddy. Warm sunny days are best, and fire ants are most active then. The Solar Ant Charmer kit comes complete with everything you need to do battle with these dangerous stinging little pests.
The unit runs on sunlight, so there is no need for batteries etc. It's very low maintenance and lasts for years of use.

Push Solar Ant Charmer point first into fire ant mound all the way to the rim. This will bring out a swarm of angry fire ants. Be very careful, because when they come out of the mound they are poised to sting anything....especially you!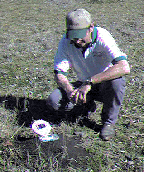 Carefully open the lid and the Solar Ant Charmer turns on automatically when exposed to sunlight. The fire ants are stimulated by electricity when they attack the Ant Charmer and fall into the cone where they continue to attack each other. Let this activity continue as long as fire ants keep coming out to attack the Solar Ant Charmer.
You have never seen so many fire ants! EEK!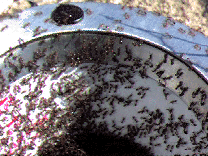 When there is very little activity or cone is full of fire ants, just add a small amount of mild soapy water or dump unfortunate fire ants into a container of mild soapy water. This ends the battle for good. Just dump out dead fire ants and go on to the next troublesome mound. Fire ants hate the Solar Ant Charmer.
The Solar Ant Charmer can eliminate your fire ant problems without poisons. It's truly a revolutionary product. The above Solar Ant Charmer has captured approx. 60,000 fire ants in about 20 minutes. Unless you own a Solar Ant Charmer you probably have not ever seen this many fire ants. This field test yielded about 80,000 very unhappy fire ants without the use of dangerous chemicals. When you collect a huge amount of fire ants quickly...you will control the mound. The fire ants you capture today will never sting you or your family again!

E-mail us for free video tape
ONLY $89.95+ Tax

Call Toll Free
800-472-5024

Click ant for Solar Ant Charmer
TM
data pages

Click ant for never before seen fire ant photos

Heitman Laboratories
Plano, TX. 75074
972-509-2400 or FAX 972-509-2401